Parks
Back at it for 2020! Were excited to announce that we have 1 brand new park that was just completed a few weeks ago just in time for us! Also we are thinking to visit another new DIY park. Potentially we have 3 new skateparks for 2020! Pictures coming very soon.
1. Ricon de Victoira
2. Cartma
3. Cartama DIY
Scooter Camp is the Worlds Only 100% All Inclusive Scooter Camp which means all 8+ skate park entrance fees are included. Water, Fruit, Juice and Snacks will be provided at each park. As well as 1 on 1 lessons for any rider who wishes to learn. Also, group actives and games will be played. Get ready to learn, laugh and have a lot of fun. These are the skate parks we plan to ride on our 6 Day 5 Night tour of the South of Spain.
*Parks can change according to the daily schedule and how the riders respond to riding everyday. We follow an tight daily plan as be sure we hit as many parks as possible.

1. Málaga Rock
The Largest out door skatepark in Europe is waiting for you. This skatepark has everything you could ever dream of riding. From a great mini ramp, to a huge vert ramp, a large street course with rails and ledges, lots of open space, a pump track and a large bowl section with a big jump box. Guaranteed, this skatepark has something for everyone Be sure that you won't be getting board anytime soon at this park! Just being able to ride this legendary park makes the trip to Malaga worth it, but wait, this is just our first park of the tour. There's way more to come.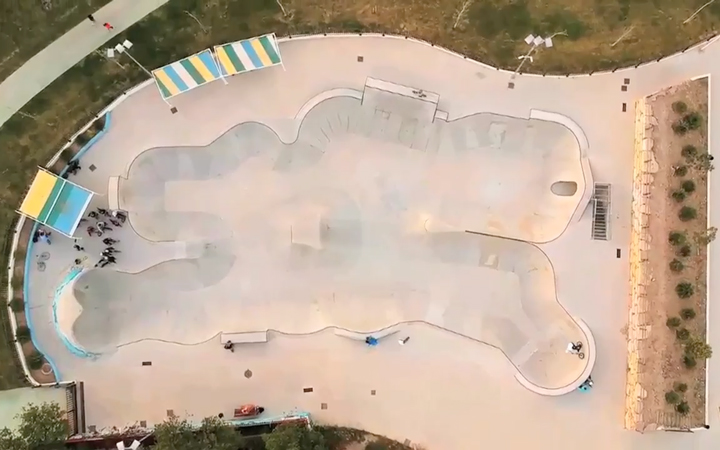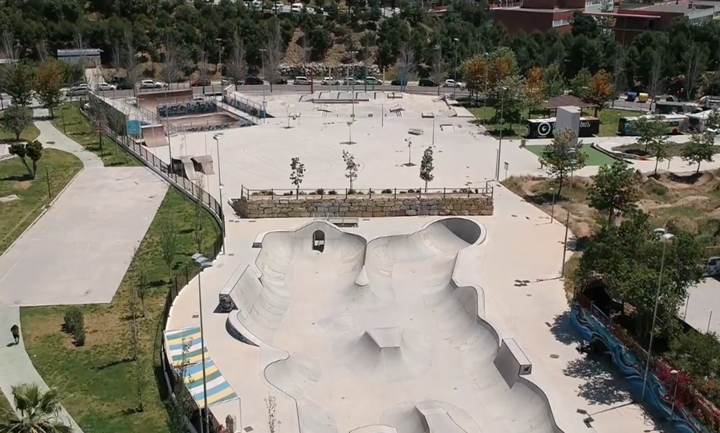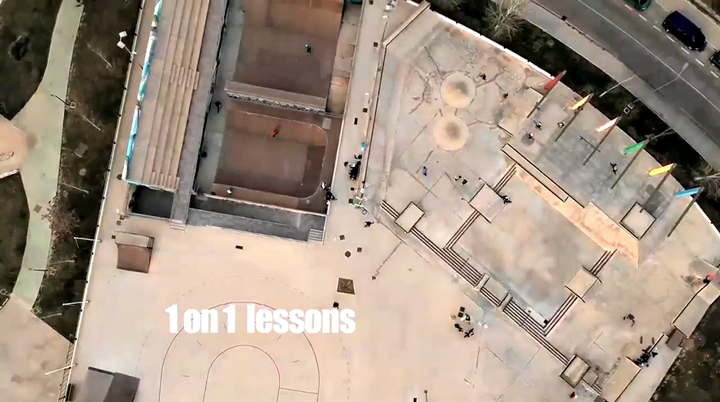 2. Antequera
This park! Antequera is tucked away in the mountains only 10 minutes away from our #ScooterCampHouse. This park has so much to offer. Easily the best jump box on the whole tour is here. There is a large street section with grind boxes going up, across and down. There are small down rails to practice on, as well as flat rails. There are 3 different sizes of Spine Ramps here as well as different sized quarter pipes all over the park to make sure you have that extra speed you need. There is a huge wall ride as well as some very cool transfers and gap just waiting for you to discover. Lots of the Riders in the past say this is their favorite park. Maybe it will be yours too?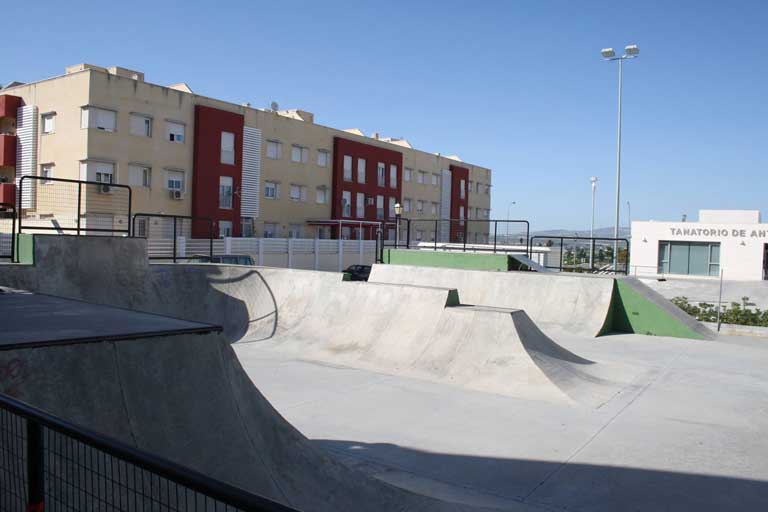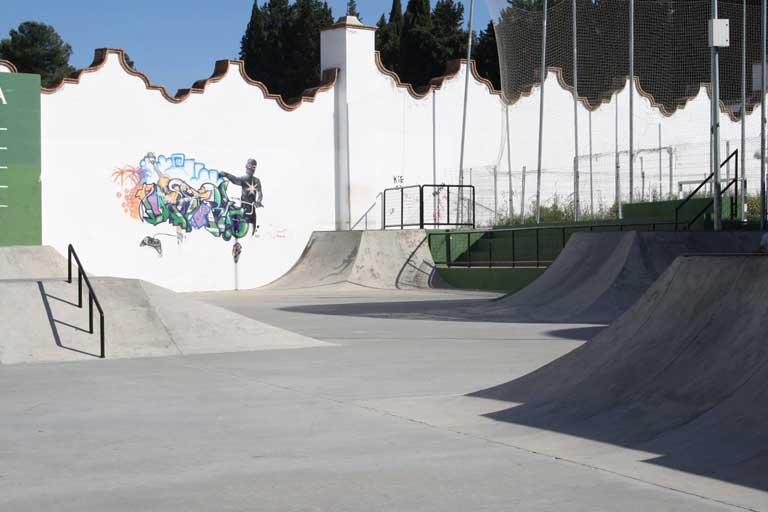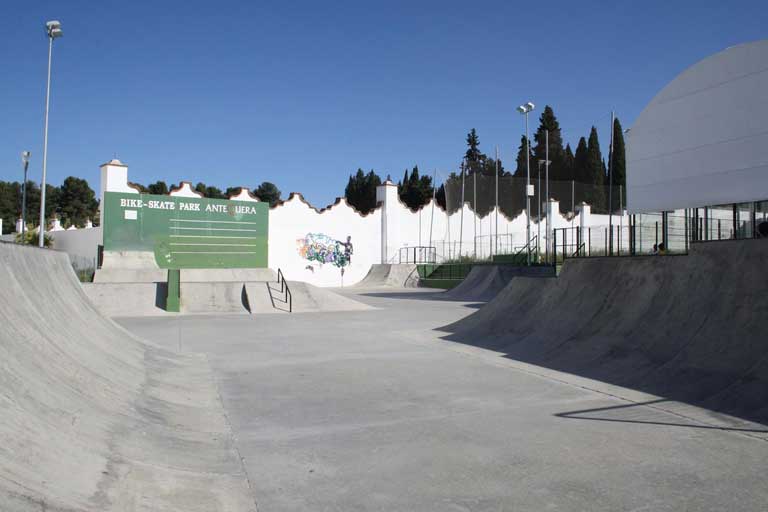 3. Granada
It would only make sense that a legendary city like Granada would have an equally legendary skatepark to match. This skatepark is huge! Not quite as big as Malaga rock but it sure comes close. This skatepark is divided into 3 giant sections. The first part of the skatepark is a ramps section with different launch ramps, jump boxes, gaps and banks all around. On the side of this section of the park is a beautifully made mini ramp/spine ramp with a wall ride. The middle section is a street part. Set up with many ledges, rails, boxes and banks. There are a variety of different sized rails and boxes to grind, so stacked on top of each other just perfect for lines, as well as many banks to jump. The third section is set up more like a transition section with lots of different quarter pipes, launches, banks and jumps. Also there are a variety of nice rails to ride and plenty of unique obstacles to conquer. The abundance of obstacles and flow of this skatepark will have your head spinning wanting to ride more!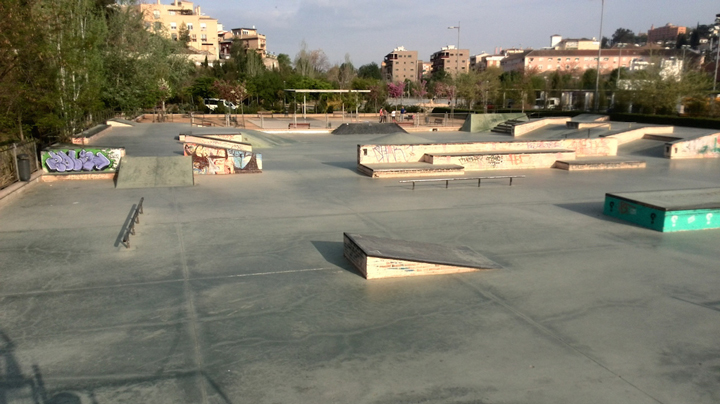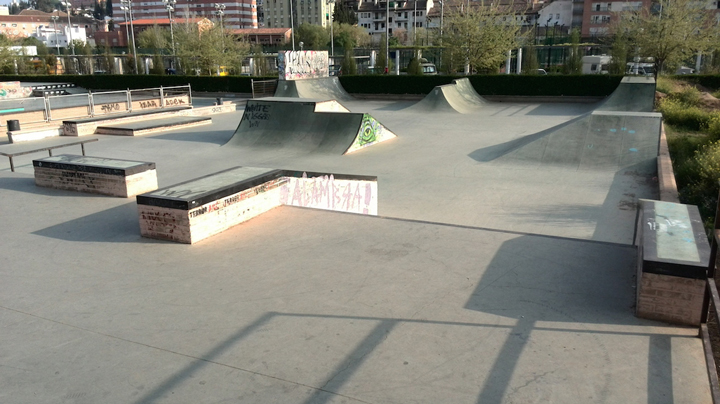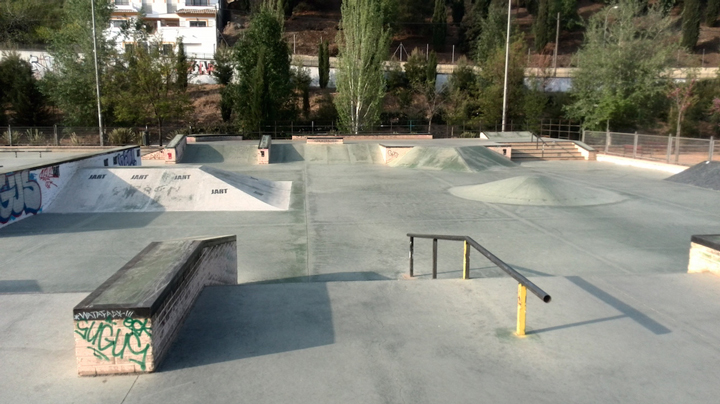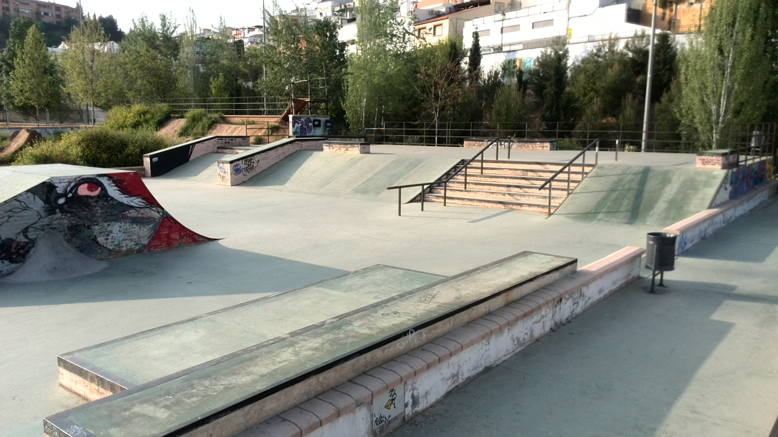 4. San Pedro
Easily the most unique skatepark we visit on the tour. This park is BIG ALSO! The park is built in the style of a snake run or a downhill slope style. At the top of the park is a bowl/pool section with a nice spine ramp to fly on. Flying out of the Bowl you enter into the downhill part of the course where your free to choice different ways and lines. Along the way are smaller curb ledges, quarter pipes, a rhythm wave section, banks all terminating into a smaller but still awesome bowl. If your not feeling like skating the downhill run of the park there are many obstacles like ledges, curbs and banks for you to enjoy. This is surely to be one of your most favorite parks on the tour, it always is!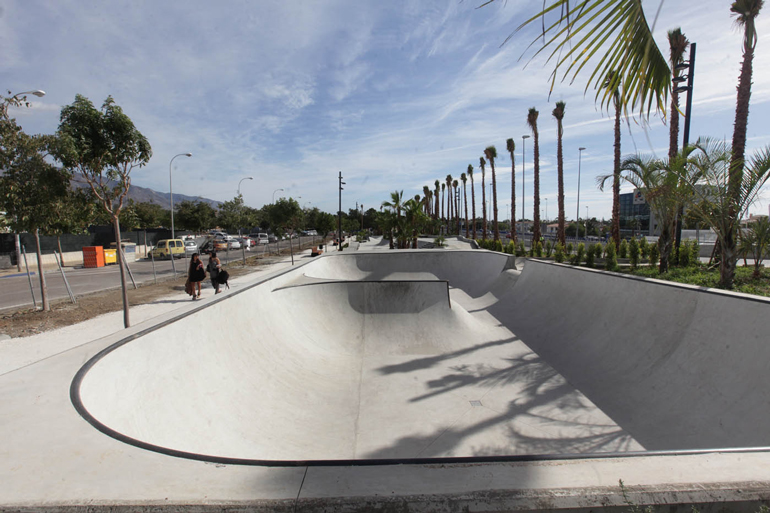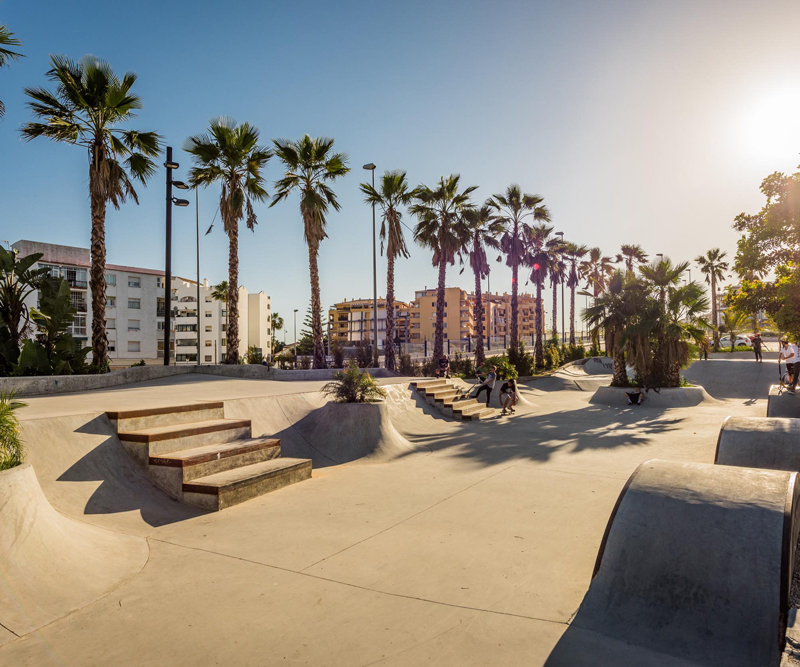 5. Fuengirola
This skate park is a classic. Here there is something for every style rider. Built right in front of a Commercial Center with a restaurant in the corner. This park also is enormous with too many obstacles to count. This is a bowl/quarter pipe style skate park with 4 different styles and sized bowls to ride. There are spine ramps to connect all the bowls together. As well, there are equally large street sections with loads of smaller grind boxes, curved ledges and down rails. Lots of launches, banks and quarter pipes all over this uniquely designed park. This is normally every riders favorite park on the tour just because of the variety of cool obstacles to ride and the size and beauty of this skate park.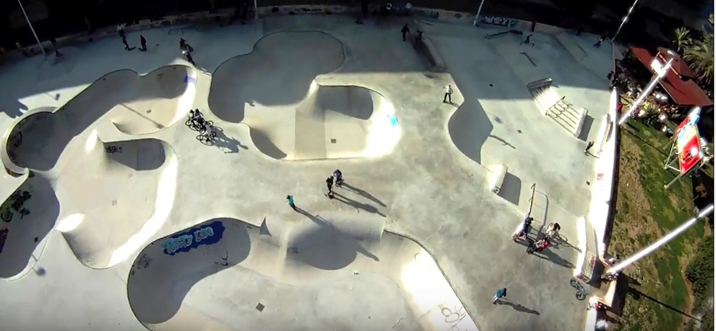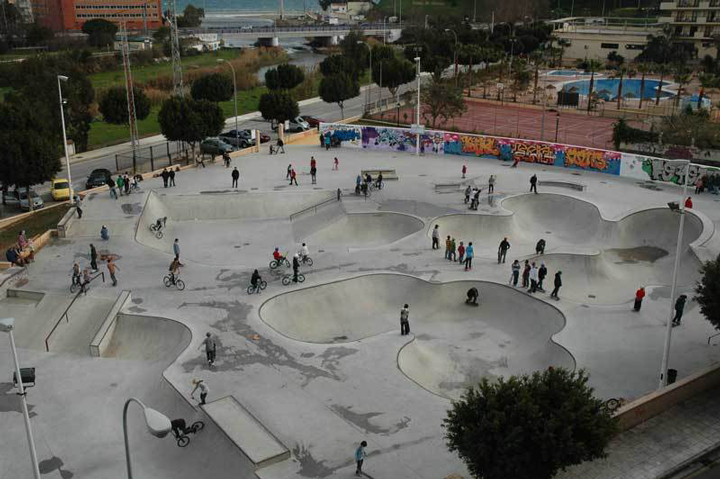 6. Benalmádena
This place is awesome. Another very big skate park we visit. Benalmadena has been completely remodeled and expanded, with new ramps, rails and obstacles added. There is a big bowl set in the center of the skate park with launches in to or out of. There are different sized quarter pipes as well as many ledges to bring. The famous obstacle here is the Wave grind box! Do you think you can conquer it? Many have tried but not many have been able to grind the whole thing. There are also jump ramps, banks to grinds, small practice rails, curved practice rails and a huge quarter pipe to ride! There is a small, curved quarter pipe section with a wall ride all around it. Oh and we cant forget hidden in the share is an enormous vert ramp quarter pipe just asking to be ridden! This place is pure fun!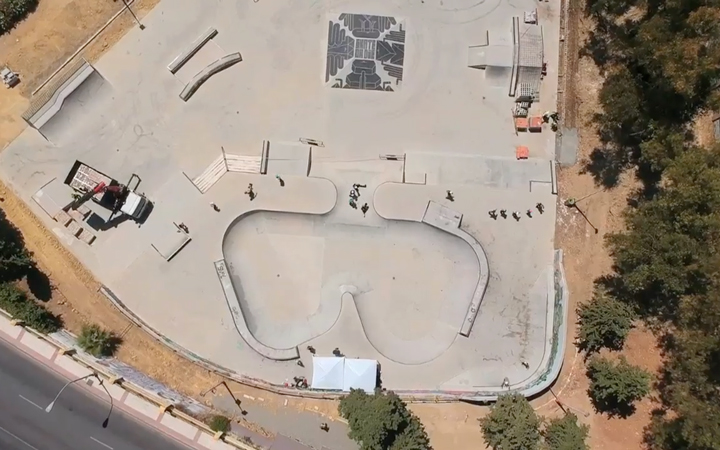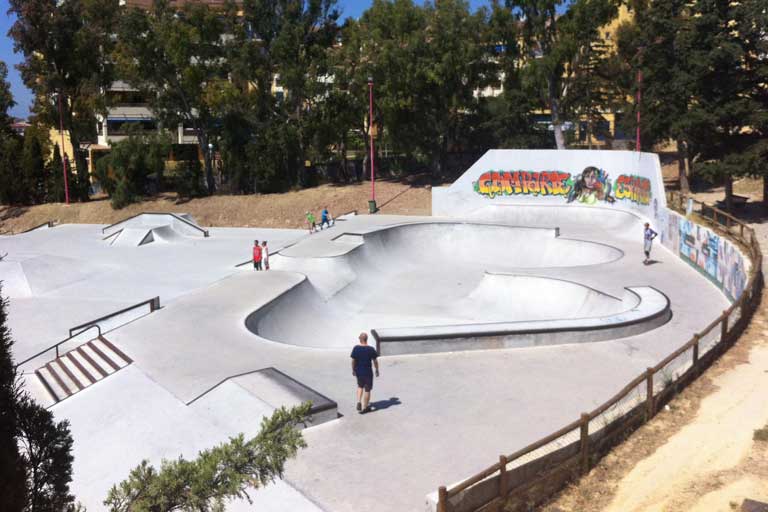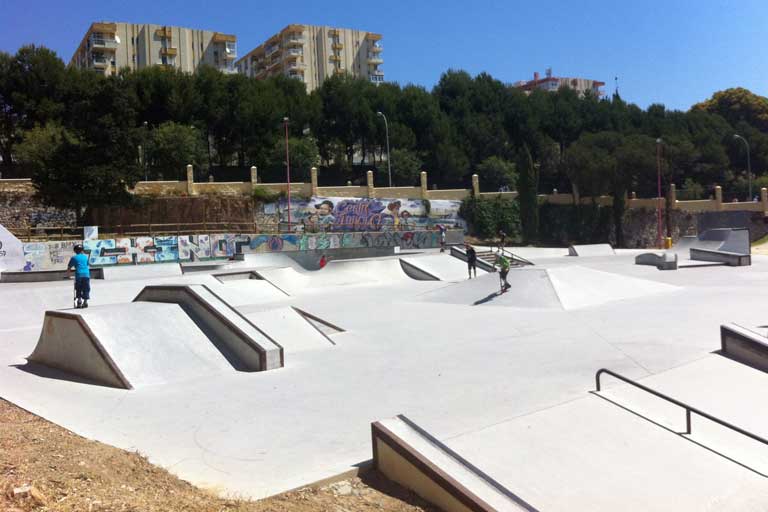 7. Coin
Natures little gem, Coin is a brand new skatepark just outside of Malaga. (We just discovered on accident, thanks to one of our Camp organizers) Coin park is set in a big open national park with loads of shade a lots of fresh water. The skatepark is very diverse with different sized quarter pipes and transfers all over the place. There is a basic bank to grind of bank to launch in the center of the park in which the whole skate park flows around. To the side there are two long, stacked one on top of the other curbs. In the corner of this park is a 270 degree bowl to launch out of and a nice transfer from this bowl hip to bank. There are also some square grind rails to practice on. This park is a session park where everyone can ride together and enjoy the beautiful space!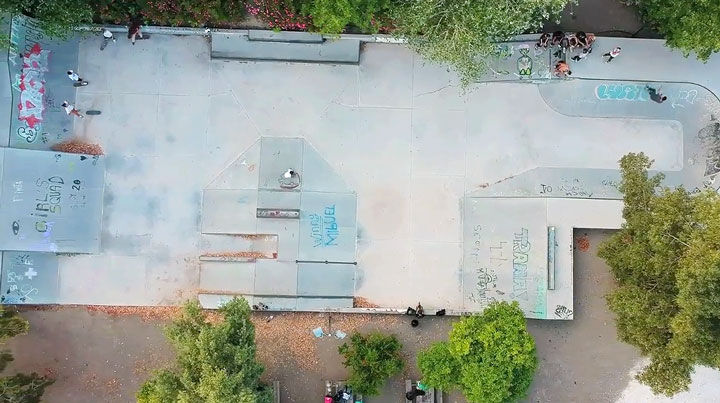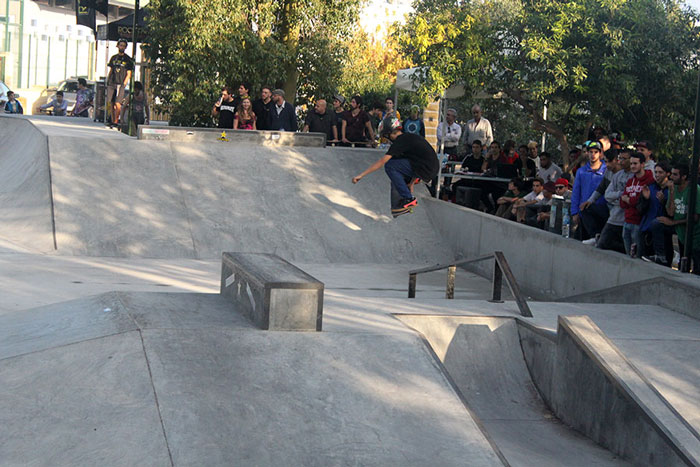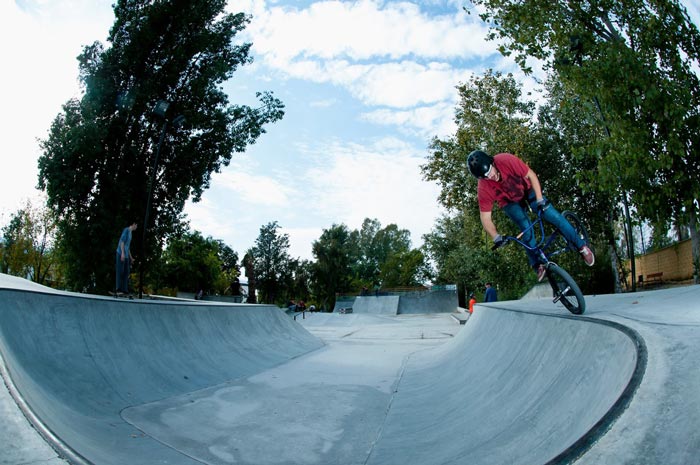 8. Marbella Park
The legendary purple park of Marbella. This has become one of the riders favorite parks. This skate park is centered around a nice size jump box in the middle of the park. Around the jump box are different sized quarter pipes, transfers and wall rides to play with. As well as many smaller grind boxes and smaller ledges built for line after line of trick. In this park there is something for everyone. There is so much natural shade at this park too which makes it a perfect park for the early morning sessions.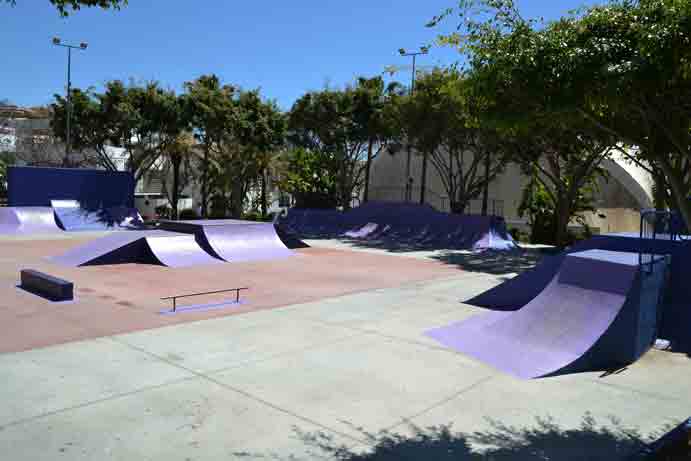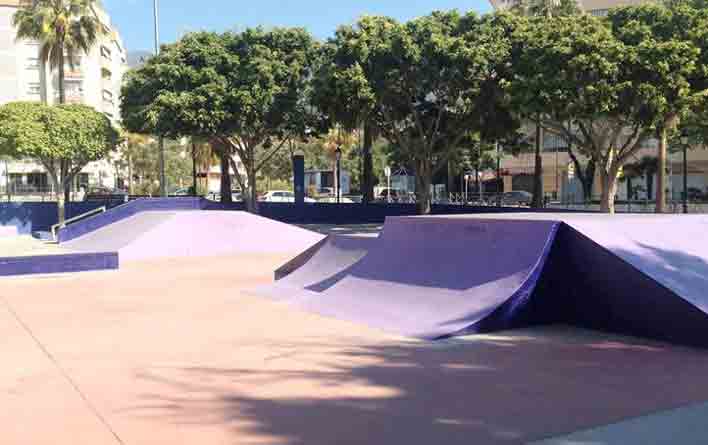 9. Mugre Park
This skatepark is brand new to Malaga. It's very unique with a rhythm wave ramp section that is a few jump boxes set up in a row. Set up in a downhill run style this skatepark also has a very nice mini ramp/spine ramp as well as a nice hip transfer out of this mini ramp. There are smaller grind ledges and lots of smaller obstacles to ride. Murgre park will be sure to surprise you! One of our favorite stops on tour!